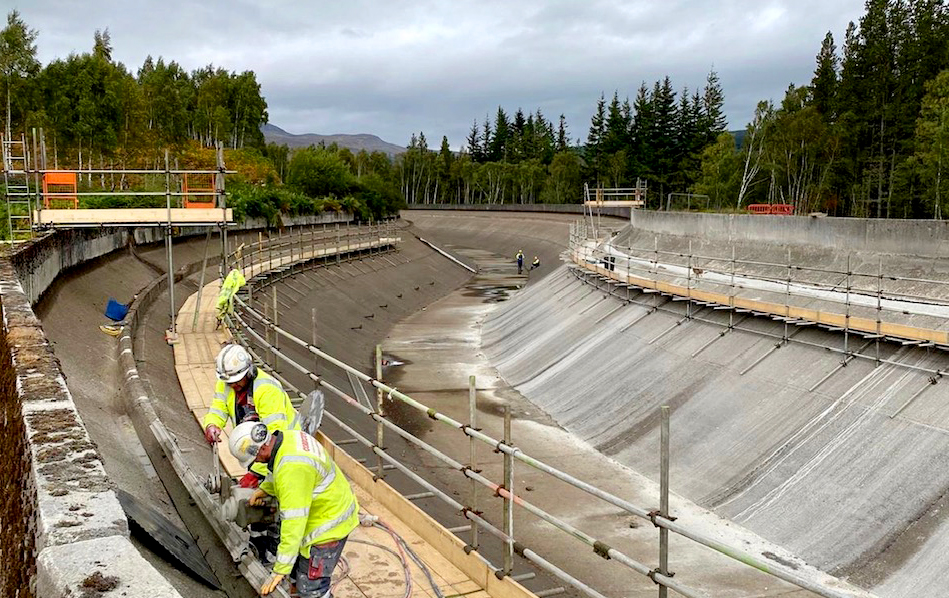 What's New At McDonald Scaffolding – Clydesdale Bank & Tummel Aqueduct
In 2020 McDonald Scaffolding supported a wide range of complex building and engineering projects throughout the Highlands, Islands and UK nationwide. In this update, we look back on two contrasting projects completed in 2020, a much-loved historic commercial building in the centre of Inverness, and a vital piece of Scotland's renewable power infrastructure in Tummel Bridge, Pitlochry.
Clydesdale Bank, Inverness City Centre
Earlier in the year McDonald Scaffolding assisted with the refurbishment of a recognisable building in the heart of Inverness.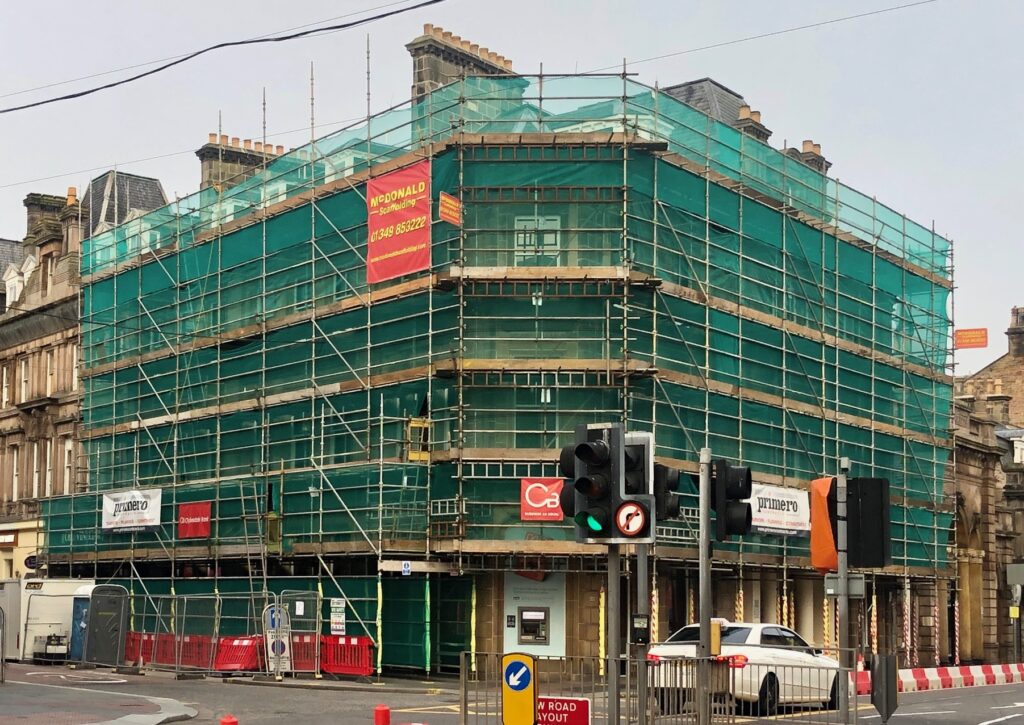 15 Academy Street, home to the Clydesdale Bank, can be found on the west side of Inverness' historic thoroughfare. The Victorian building, which first opened its doors in 1856 as the Royal Hotel, is a well-known and much loved fixture of Inverness' city centre. McDonald Scaffolding were asked to provide and construct specialist scaffolding equipment to support vital restoration work on the building.
McDonald Scaffolding's team worked to carefully construct scaffolding and install platforms around the building, taking care to protect the historic stone features such as parapets and chimneys found throughout upper exterior and roof areas. Adjacent to busy access routes to the city centre, this project presented a unique challenge; with no viable laydown area or compound available, the team worked to feed in equipment safely during the early hours of the morning when traffic and pedestrian activity was at it's lowest.
Another unique aspect of this project was working to protect the public during ongoing social distancing measures. In order to provide the maximum amount of space and access to pedestrians, double-width scaffolds were installed at the base, ensuring the correct COVID-secure distances were maintained throughout the operation.
McDonald Scaffolding has supported the restoration of many historic and important buildings throughout the Highlands, helping to maintain the heritage and preserve the condition of buildings for generations to come. Look out for further updates from McDonald Scaffolding to learn more about the architecture projects we support.
Tummel Aqueduct, Tummel Bridge
In contrast to a well-known city-centre building, Tummel Aqueduct is a relatively less known but vital piece of historic engineering found in the Tummel Bridge area of Pitlochry.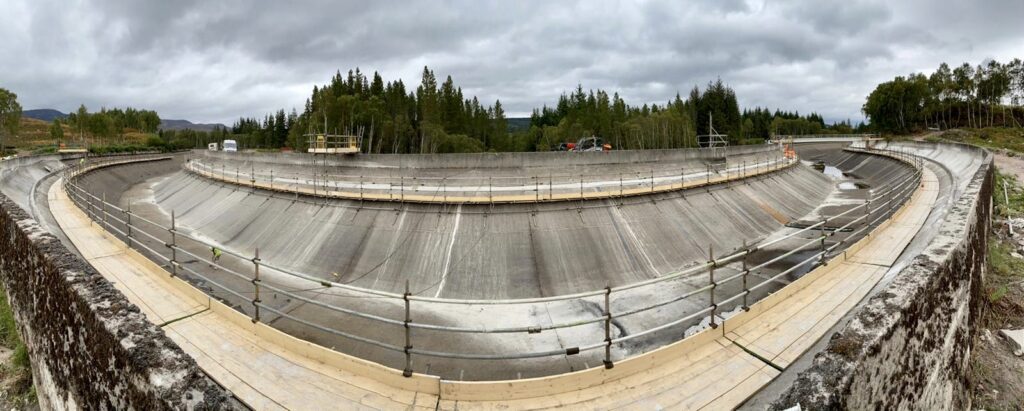 Tummel Aqueduct is a crucial part of the Tummel Valley Hydro-Electric Scheme. Built in the 1930s, the aqueduct is part of a huge network of rivers, lochs and resevoirs that channels water to nine power stations situated throughout the area, generating renewable energy that is then distributed all over the country.
Working closely with the energy company responsible for the project, McDonald Scaffolding was asked to support an ongoing program of repairs and maintenance to the concrete structure of the aqueduct. The massive "concrete river", which normally transports huge volumes of water daily, was dried out so that the team could construct 200m of specialist scaffolding to a section of the structure, providing safe access to areas in most critical need of repair.
After successful execution of the project, McDonald Scaffolding is preparing to continue working on the aqueduct in 2021, providing access to a 2-mile section of the structure while repair work continues. Stay tuned to our page for updates on this project and more.
McDonald Scaffolding is Scotland's leading specialist scaffolding company, based in Invergordon and serving clients throughout Scotland, the UK, Europe and beyond. With decades of experience serving the oil, gas, marine and civils markets, McDonald Scaffolding has built its reputation on providing professional, reliable scaffolding services. Learn more about what we do or contact the team to find out how we can support your project.