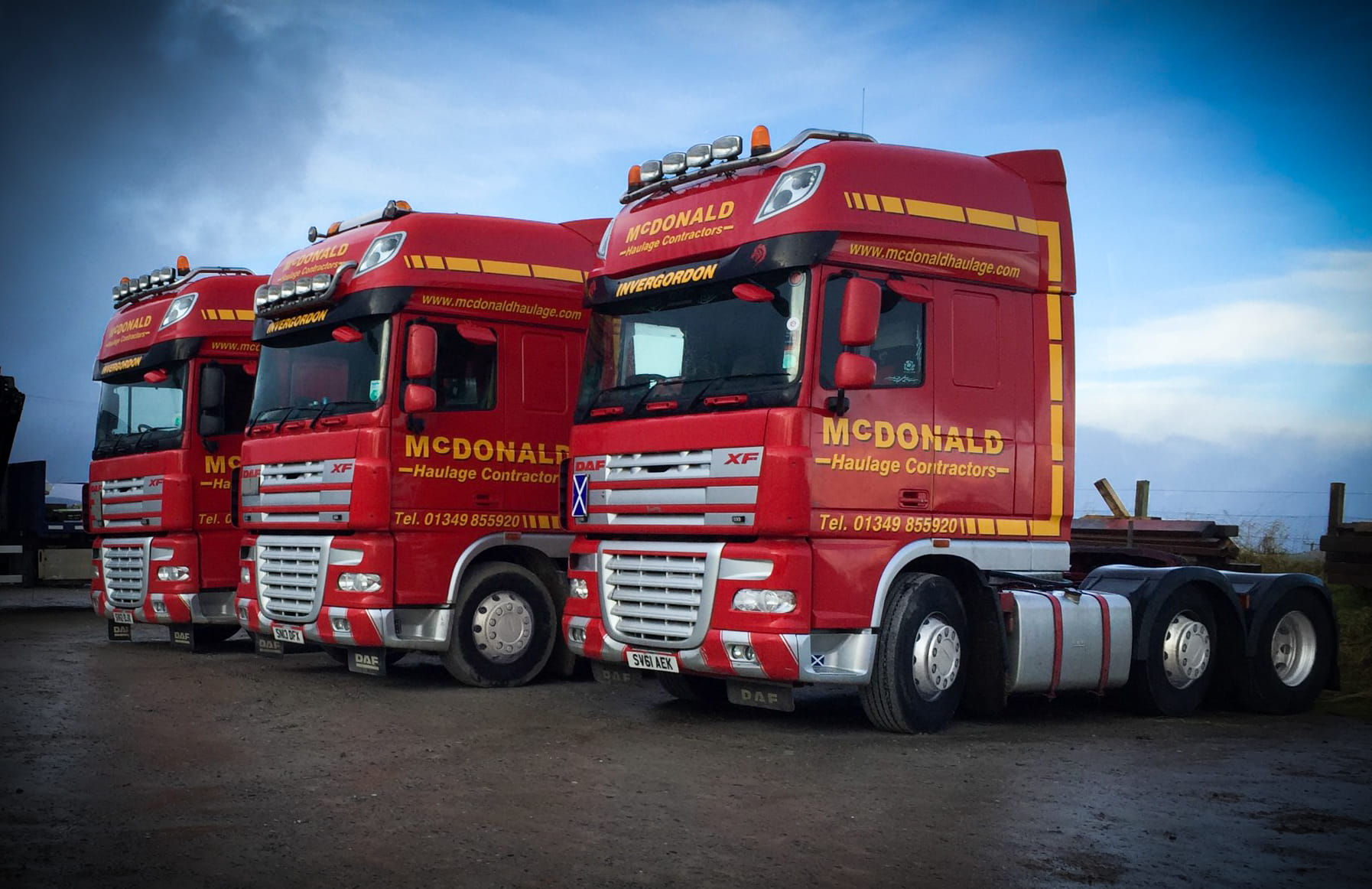 McDonald Haulage – Haulage and Logistics in Scotland
In 2011 McDonald Scaffolding launched its haulage and logistics division in Inverness, creating a new force in bulk haulage and contract delivery provision operating from the North of Scotland throughout the UK nationwide.
Now McDonald Haulage conducts specialist transport and road haulage services for a wide range of market sectors, providing distribution of industrial, construction and energy equipment and materials throughout the Highlands, Islands and well beyond.
Highland Haulage, Nationwide Reach
We utilize our modern fleet of specialist vehicles to provide agile, flexible transport services, collecting and delivering everything from palletised loads to machinery and plant equipment. No matter your haulage requirements, we have the equipment to carry out the job safely and efficiently. Our 44-ton gross Arctic Trucks provide the capacity for large volumes and heavy loads, while our tippers and pick-up trucks give us the flexibility to offer hot-shot deliveries – no job is too big or small for us to handle.
Our fully qualified team of drivers and logistics coordinators are more than capable of meeting all of your transport and road haulage requirements. We offer a full turn-key transport solution that delivers – providing not only the vehicles, equipment and expertise but the organisation and coordination that your project requires.
Specialised, Reliable Haulage and Logistics
We can provide efficient, specialised solutions for wide and abnormal loads, and have years of experience in escorted deliveries. Our logistics team will make all the necessary arrangements to move any abnormal load, whether this requires road routings, escort vehicles or the utilization of specialist radio and communications equipment.
Mcdonald Haulage's service is not only reliable but agile and reactive – we can respond to changing conditions, project timelines and schedules, ensuring consignments reach their destinations in perfect condition and on time. Our hi-add rigid trucks can load, haul and discharge cargo quickly without the use of additional equipment, while our 3.5 – 12-ton rigid trucks are ideal for accessing hard to reach areas – whatever the conditions, we deliver.
Our team has the wide range of experience and skills necessary to handle loads of all types and volumes. In addition, we ensure our drivers are up to date on all training and hold ADR and CPC certification, so you can be confident that your consignment will be handled securely and professionally.
Whatever your haulage or logistics needs, McDonald Haulage has the tools and capacity to deliver. Get a quote for your haulage and logistics project, or contact our friendly, experienced team for more information.