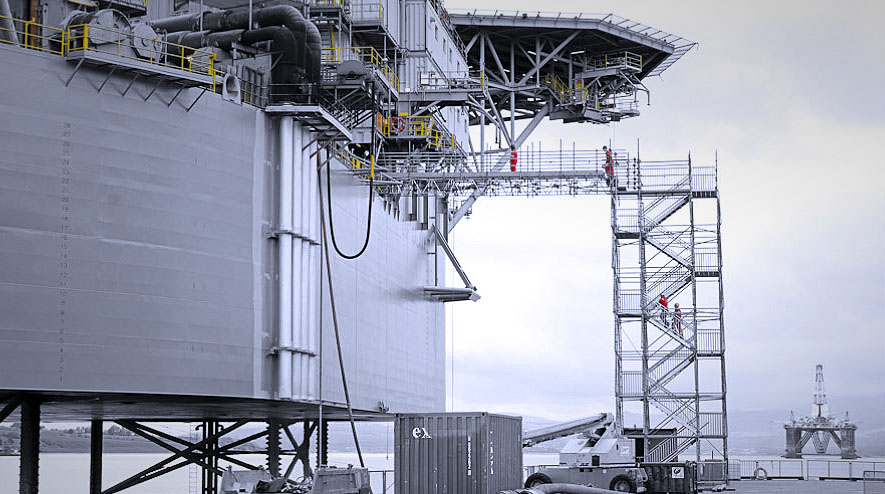 With years of experience in managing complex projects across the oil, gas, marine and civils markets, McDonald Scaffolding provides expert scaffolding services to meet all client needs.
At McDonald Scaffolding we specialise in technically demanding, complex projects across the UK, Europe and Africa. Our work often involves operating in tough environments and harsh weather – conditions we're experts at dealing with. We have a long-standing reputation for quality in the civils market, as well as a thorough understanding of the unique needs of the oil, gas and marine industry, and we're well placed to meet those needs.
Our expert team has an excellent safety record, as well as the right skills, equipment and training to offer the highest possible standards, providing high-quality scaffolding in Scotland, the wider UK and beyond. With a highly-trained and competent workforce of around 300, we can facilitate many projects at once. We own 2,500 tonnes of scaffolding equipment, including a large inventory of specialist equipment.
With a 24/7 callout service and our own fleet of vans and rapid response vehicles, we have an enviable reputation within the industry for accommodating clients' needs. Our transport division provides efficient transportation and heavy haulage services across Scotland.
Our shrinkwrap and containment division allows us to provide high-tech, durable encapsulation solutions for containment and weather protection in a wide variety of markets.
We have four main divisions: